Over 100 Candidates for Congress Pledge to Demand Constitutional Authority for Future Wars


Bipartisan Group Shows Growing Movement Against Endless Wars and Constant Military Intervention

(Boise, Idaho) — Dan McKnight, Chairman and founder of the national veterans group Bring Our Troops Home, announced today that over 100 candidates in the upcoming general election for Congress have signed the organization's pledge to demand constitutional authorization for any future military intervention.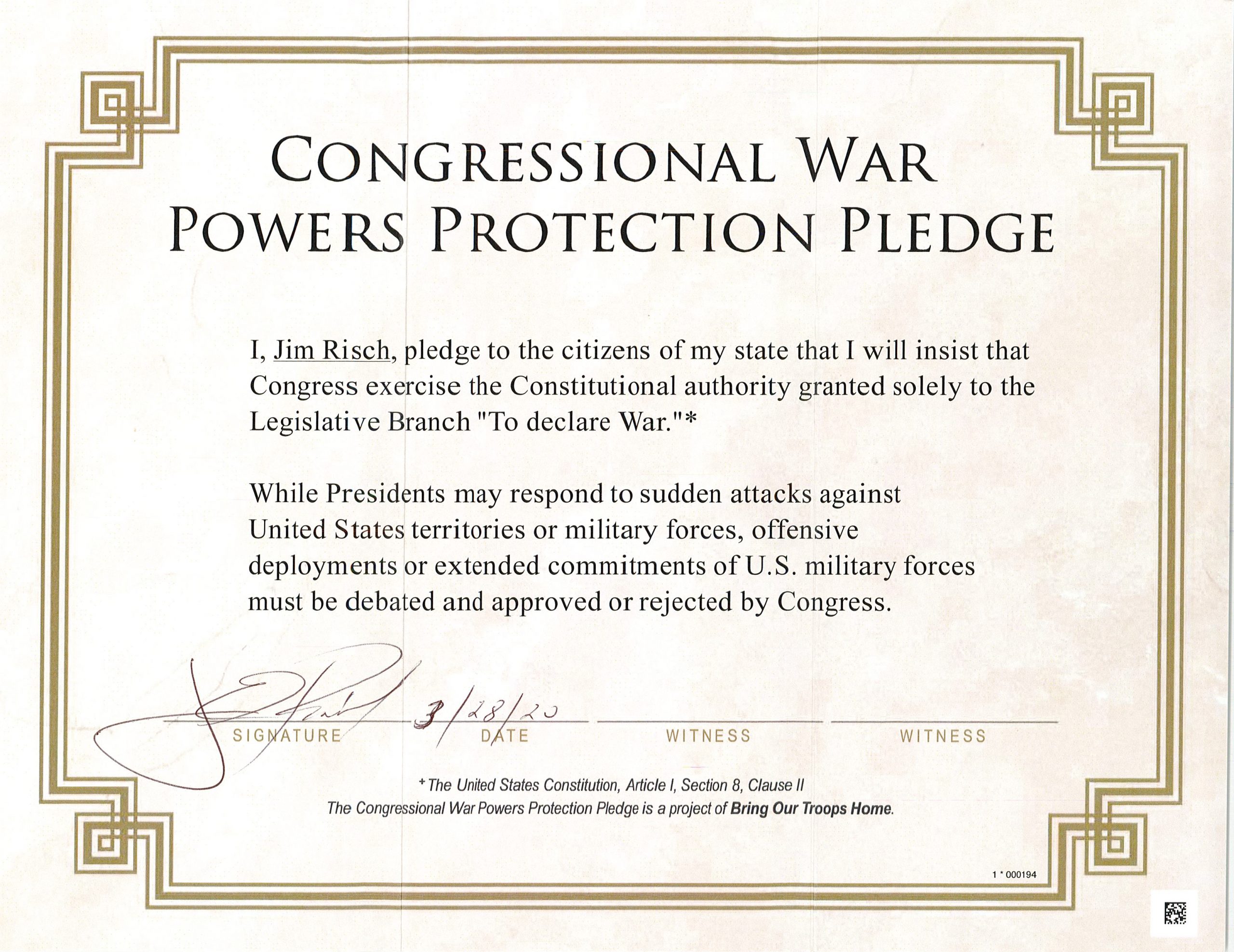 "This is a tremendous start. Over 100 candidates have signed our pledge, including 10 incumbent members of the House of Representatives and one incumbent senator," said McKnight. "We see this as the real beginning of a movement inside Congress to demand a return to constitutional principles and an end to the policies of near automatic military intervention all over the world that has led to the endless wars."
The Pledge was sent to all candidates in the primary elections and then to all candidates on the November general election ballot. The pledge states:
I, —, pledge to the citizens of my state that I will insist that Congress exercise the constitutional authority granted solely to the legislative branch "To Declare War."

While Presidents may respond to sudden attacks against United States territories or military forces, offensive deployments or extended commitments of U.S. military forces must be debated and approved or rejected by Congress.
Adherence to this pledge would be to invoke Article I, Section 8, Clause ii of the Constitution.
"All of us involved are extremely proud of the bipartisan show of support the pledge and the commitment to the Constitution has received," continued McKnight. The incumbent members of Congress who have made this pledge are:
Senator Jim Risch-R (ID) Chairman of the Senate Committee on Foreign Relations
Representative Andy Biggs-R (AZ-05)
Representative Jim Himes-D (CT-04)
Representative Danny Davis-D (IL-07)
Representative Chuy Garcia-D (IL-04)
Representative Jared Golden-D (ME-02)
Representative Don Bacon-R (NE-02)
Representative Mike Doyle-D (PA-18)
Representative Lloyd Doggett-D (TX-35)
A full list of all candidates who signed the pledge can be found at www.BringOurTroopsHome.us/Pledge-Project.

"This movement to put an end to the wars of convenience and having America's sons and daughters be policemen to the world will succeed. The American people oppose the endless wars and tragic waste of our youth and treasure. The foreign policy of intervention and global empire must come to an end. This pledge and the men and women who have signed it are an important first step to achieving these goals," concluded McKnight.
# # #