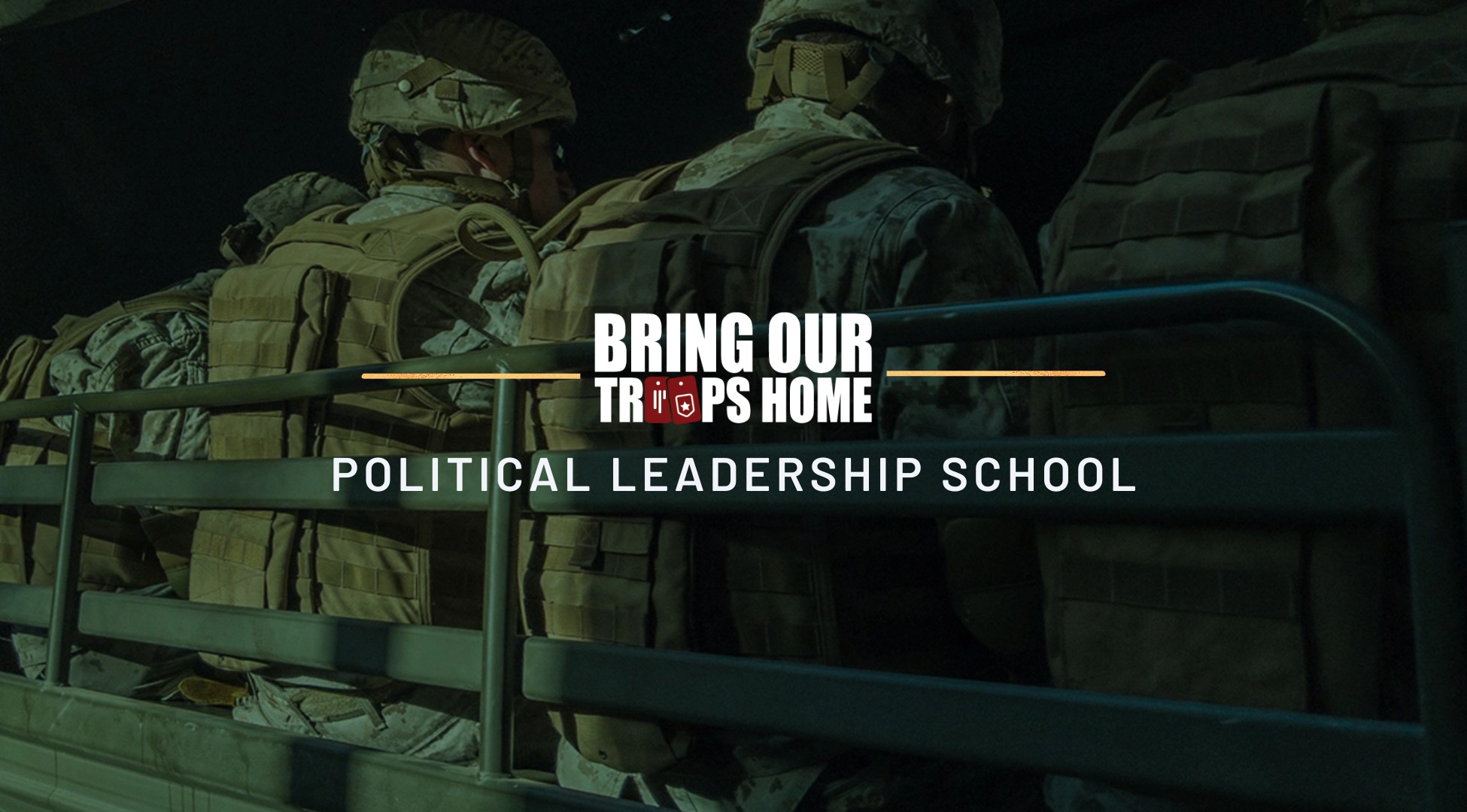 Our Mission
Our mission is defined by the demand we give to every elected official: bring our troops home!
We believe in the Founding Fathers' vision of America. In the words of President Thomas Jefferson, "peace, commerce, and honest friendship with all nations; entangling alliances with none."
We seek a foreign policy that fits a humble, limited government republic, not a globe-spanning imperialistic empire.
We swear to uphold Article I, Section 8 of the U.S. Constitution, which empowers Congress with the power to declare war, not the president.
We condemn the unconstitutional, endless wars of the past twenty years in the Middle East and Africa.
We ask that the lives of our soldiers—eternally precious to their friends and families—are not wasted in needless wars of choice.
We pursue a grassroots strategy that organizes patriots on the local and state level, not in Washington DC.
We secure our goals through Defend the Guard legislation, using the states as a bulwark against federal malfeasance.
We instruct you on the lessons you need to succeed in this mission.
Who We Are
We are veterans of the Global War on Terror.
We are the men and women who heard the call to serve and did not waver from our patriotic duty.
We are the protectors of the United States Constitution, who swore an oath to defend it with our lives.
Our founder, Sgt. Dan McKnight, is a thirteen year combat veteran of the U.S. military, including an eighteen month deployment to Afghanistan (2005-2007).
When he founded Bring Our Troops Home in 2019, he set out to assemble the finest, most principled collection of activists and fellow veterans in the liberty movement.
He found them.
You will be taught by the best leadership school instructors, the best on-the-ground campaign operators, the best digital team, and the best writers in an intimate, interactive one-day class that will develop you into a discerning, first-class activist.
Austin Texas August 12th
Dale Carnegie Training Center of Austin
525 Round Rock W Dr A-145, Round Rock, TX 78681
SOLD OUT!
Thank you for coming!
Tucson, Arizona June 24th
Catalina Foothills Venue TBD
SOLD OUT!
Thank you for coming!
Kansas June 17th
The Corner
2400 South Greenwich Wichita, Kansas 67210
Thank you for coming!
Start Your Own Class
If you are ready to start your own class and learn the ways of confrontational politics, you must have three things in mind. 
A HOST. Whether yourself or a prominent social, civic, or political leader, a host is necessary for local preparation and outreach to potential registrants. He or she must be a person of contact willing and able to shoulder responsibility and complete necessary tasks.
A LOCATION. Locations are ideally positioned within an hour drive of a prominent airport. Select a meeting place, for example an appropriately sized hotel conference room or banquet hall, that can be rented and comfortably accommodate twenty to fifty people.
A DATE. Either a Saturday or Sunday, avoiding holiday weekends, at least 2-3 months in the future.
Fill out our interest form with the information you've prepared, and our team of instructors will be in touch.  Are you unable to attend a class? You can still help! For every $50 donated we are able to provide 8 hours of high level training to excited activists. Click here to sponsor an activist (or two).
-Sgt. Dan McKnight
Chairman, Bring Our Troops Home