Emmons urges Houlahan to end "endless wars"
GOP hopeful to speak at veterans' event honoring Marine general
For immediate release: Wednesday, Oct. 14, 2020
Contact: Derek Dufresne 202-809-6013 or
derek@rightvoter.com
West Chester, PA- John Emmons, Republican candidate for Congress in Pennsylvania's 6th Congressional District, urged incumbent Congresswoman Chrissy Houlahan, (D-PA), to join him in taking an Afghanistan and Iraq war veterans' candidate pledge to oppose future deployment of U.S. troops to foreign combat zones without proper Congressional authorization.
Emmons also urged Houlahan to join him in attending an October 19th event — sponsored by the same veterans group BringOurTroopsHome.US — at the Oaklands Cemetery gravesite of the late Marine Corps. Maj. Gen. Smedley Butler, who after his retirement both authored a book and made speeches across the country in which he asserted that "war is a racket." At the time of his death in 1940, the West Chester native and two-time recipient of the Medal of Honor, was the most decorated Marine in U.S. history, having fought in the Caribbean, China, Central America, the Mexican Revolution, and France in World War I.
The event, Honoring Veterans of America's Endless Wars, will take place at 12:00 EST at the Oaklands Cemetary 1042 Pottstown Pike, West Chester, PA 19380.
The October 19th ceremony falls on the 19th anniversary of the day that U.S. boots first hit the ground in Afghanistan after the 9/11 terrorist attacks. After two decades of continuous war, an entire generation of Americans has been raised who have never known an America at peace.
"I thank all the brave men and women, and their families, who have sacrificed for our country," Emmons said. "I agree with the overwhelming majority of Americans who believe it's time to bring our troops home from Afghanistan. U.S. forces should not be used in overseas 'nation-building' exercises. Instead, they should have a clear military objective when deployed that advances our national security and return home when that objective has been met.
In light of 19 years of American presence in Afghanistan, Emmons said, "Voters in Pennsylvania's 6th District deserve to know why Congresswoman Houlahan voted in favor of legislation to block President Trump's efforts to bring our troops home from Afghanistan."

Emmons signed the BringOurTroopsHome.US pledge promising that if elected, he would "insist that Congress exercise the Constitutional authority granted solely to the legislative branch to declare war" before supporting the commitment of U.S. forces to combat overseas.
"While I support the authority given to the president by the War Powers Act, which gives the commander-in-chief the ability to respond to sudden attacks against our territory, military forces, or allies," Emmons said, "the Constitution is clear that only Congress can declare war."
Former Idaho Army National Guard Sgt. Dan McKnight, Afghanistan veteran and founder and chairman of BringOurTroopsHome.US, said the group is drawing attention to the pledge — and Houlahan's refusal to sign it — by observing the anniversary of America's invasion of Afghanistan at the grave of Maj. Gen. Butler, an outspoken critic of American arms manufacturers and other corporations' past and current role in pushing America into foreign conflicts.
"No one can question Gen. Butler's patriotism or heroism, "McKnight said, "and we believe his insight is also being proven true once again today as the same military industrial complex President Eisenhower also warned us about pressures Congress, including Rep. Houlahan, to keep us in a permanent state of war, all without an actual declaration of war as required by the Constitution."
"We appreciate John Emmons for his leadership," McKnight said, "and we urge Congresswoman Houlahan to follow John's leadership and stand with the American people instead supporting military industrial contractors who want to keep their blood money flowing from the blood of American soldiers."
Emmons and McKnight will be joined in speaking at the Oct. 19th event by former Maj. Danny Sjursen, U.S. Army, an author and historian who taught military strategy at the United States Military Academy at West Point, and by Scott Horton, author of Fools Errand and editor of AntiWar.com.
Watch video preview of the event
Multiple public opinion polls conducted in the last two years indicate that American's support for withdrawing U.S. troops from Afghanistan and Iraq is strong and growing stronger.
* In April, Concerned Veterans for America released a poll which found that 73 percent of the 1,500 veterans and military families polled supported full and immediate withdrawal of all U.S. troops from Afghanistan, where I served for eighteen months in 2005-06.
* In March, a Tarrance poll of Trump voters in the three swing states that gave him the presidency – Michigan, Pennsylvania, and Wisconsin – found that 86 percent supported the President's withdrawal of U.S. troops from Syria, 62 percent supported withdrawing U.S. troops from Afghanistan, and 58 percent supported withdrawing U.S. troops from Iraq.
* In January, YouGov released a poll finding that roughly 70 percent of all Americans surveyed supported withdrawal of U.S. troops from both Afghanistan and Iraq.
* Last October, Rasmussen Reports found that 58 percent of likely U.S. voters and 69 percent of Republicans agreed with President Trump's statement that "it's time for us to get out of these ridiculous endless wars, many of them tribal, and bring our soldiers home."
* In June 2019, Pew Research Center found that 64 percent of veterans and 62 percent of Americans said the war in Iraq was not worth fighting, while 58 percent of veterans and 59 percent of Americans said the war in Afghanistan was not worth fighting.
* In April 2019, Concerned Veterans for America found that 60 percent of veterans and military families supported withdrawing U.S. troops from Afghanistan – meaning support for that position grew by 13 points from April 2019 to April 2020.
* In January 2019, a Politico poll found that 81 percent of Trump voters supported withdrawing U.S. troops from Afghanistan.
* Over Veterans Day in November 2018, a poll by Stars and Stripes magazine found that 84 percent of military service personnel and veterans agreed that the occupations of Afghanistan and Iraq have "been going on too long."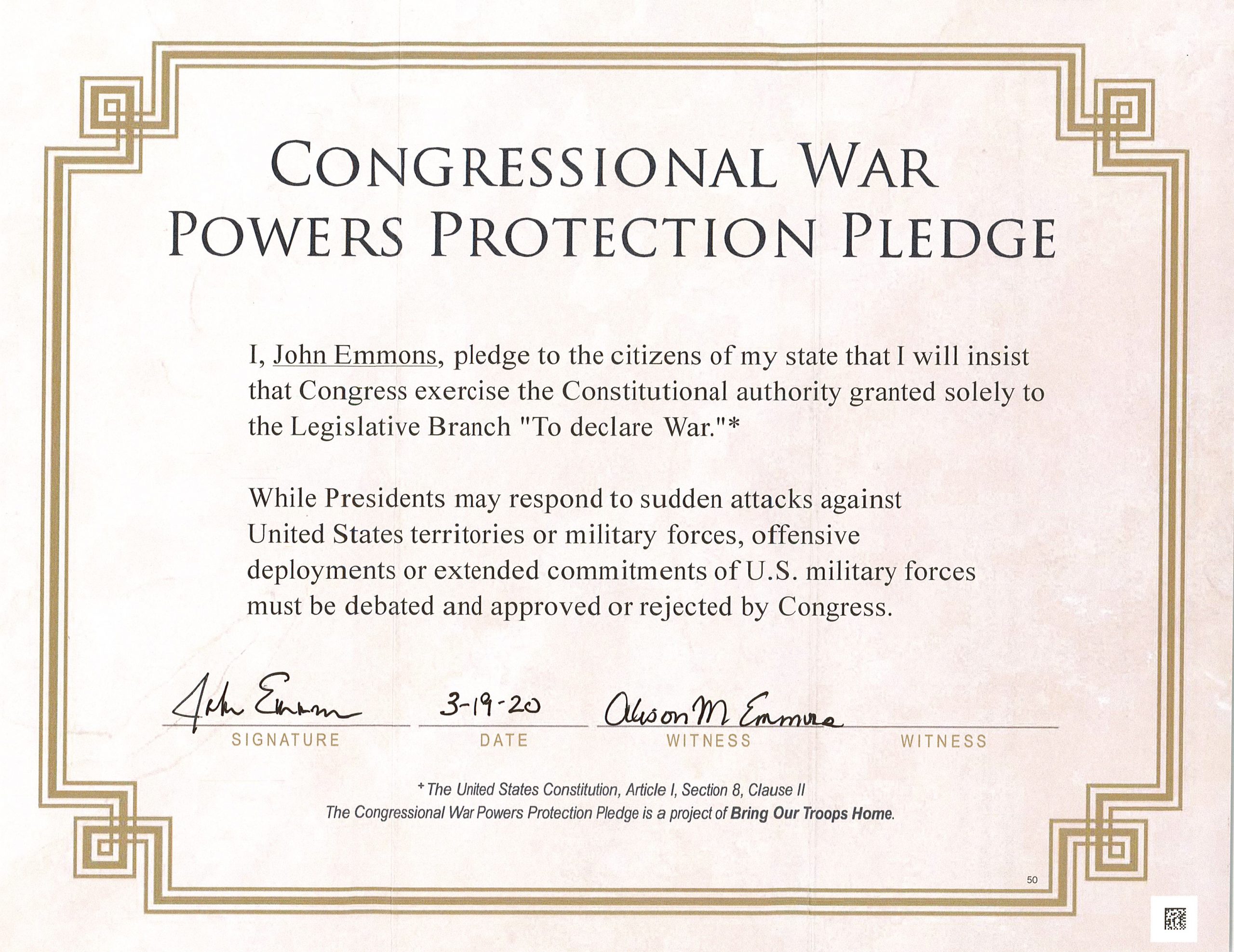 # # #